Here is what I believe about the road trip to Disneyland after driving it so many times I can see that road in my sleep.
It's much more than just a cheap way to get to Los Angeles and eventually, Orange County. If done right, a road trip to Disneyland is a true Westcoast adventure.
I've been writing a book about this road trip called, "We're not there yet, and that's a good thing. What to see, do, eat, and where to go on your road trip to Disneyland." Make no mistake, it takes absolutely forever to write a book. Or, at least, it's taking me forever.
In the meantime, because it's summer and so many people are searching for information about the road trip to Disneyland, I'd like to share my main tips and tricks for this drive.
I'm going to cover quite a few different topics, and you can use this menu to skip around.
Why should you drive to Disneyland?
I've written a ton of blog posts that detail my enthusiasm for this road trip, and I honestly could give you so many reasons why this is something everyone should do with their families.
We've come to a point in history where people don't just want to take a road trip; they need to. Has there ever been a moment in time when we've needed a return to the simpler things more than we do right at this minute? A road trip is one of those simpler things, and if you live on the Westcoast or you're visiting the Westcoast, a road trip to Disneyland is the ultimate drive for anyone.
A road trip isn't just a drive; it's about connections. After months of busy schedules, skipping family dinners for work or sports, and mindless sitting in front of televisions watching news that, let's be honest, couldn't even be construed in the smallest way as positive, anyone can make the choice to pack their car and head out on the road with nothing but blue skies and sun ahead.
They can spend hours together on the way to somewhere that is the ultimate destination for any child or child at heart, and they'll learn about the history, see the quirky stops, and be able to experience the scenic vistas for themselves.
Road trips with the family every summer are a throw-back to the 50's, and this road trip will give you a chance to everything the Westcoast has to offer. All you need to do is put the keys in the ignition and drive.
What should you pack for a road trip to Disneyland?
The best preparation for tomorrow is doing your best today, and that means packing that car, truck, or minivan with everything you can to make both you, and if you have little people along, happy, comfortable, and excited about spending days on the road. I'll cover several packing tips for this road trip including:
This is a good time to invest in a car top tote for your vehicle, and pack items like beach towels and beach chairs inside of it
Stow your larger bags underneath the seats or in your top tote and pack smaller day bags to keep in the car
Consider cubes for your or your children and pack them with clothing, PJ's, toothbrushes, and stuffies so they can carry it into the hotel themselves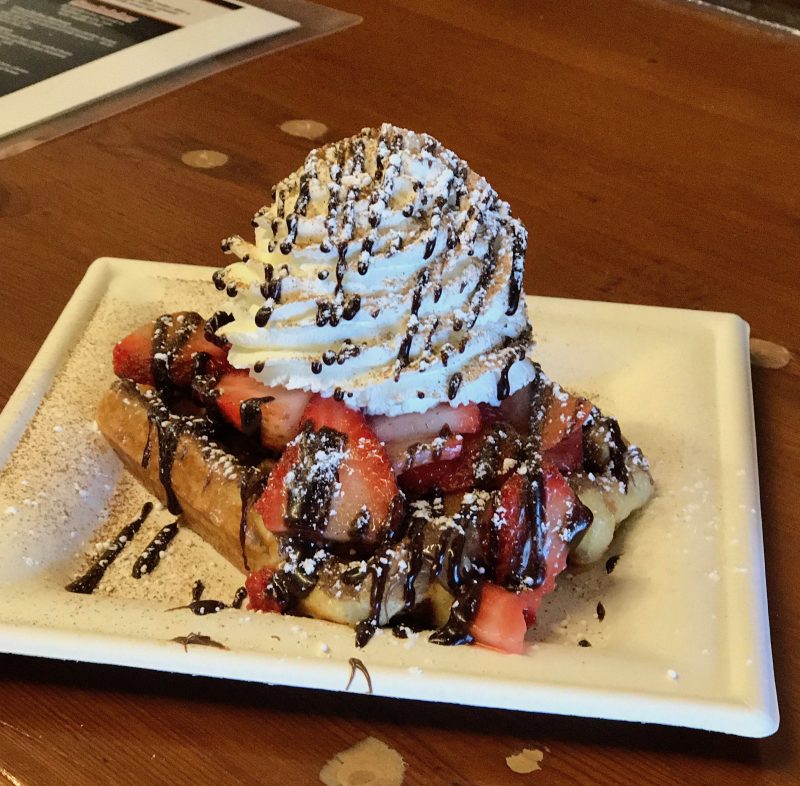 This road trip is your moment to eat like a lifer who's just broken out of jail. You might want to pack healthy snacks for the kids, but when it comes to you or the adults in the car, I recommend you take $50 and act like you're 5 years old and running wild through the grocery store. Buy the chocolate. Get 4 containers of Pringles for $5. Enjoy, because if you're driving at 11 pm and you just want to nod off, those peanut clusters will be your best friend.
I've also got quite a few food recommendations for what to eat when you're on the way or at Disneyland.
What should you drive on a road trip to Disneyland?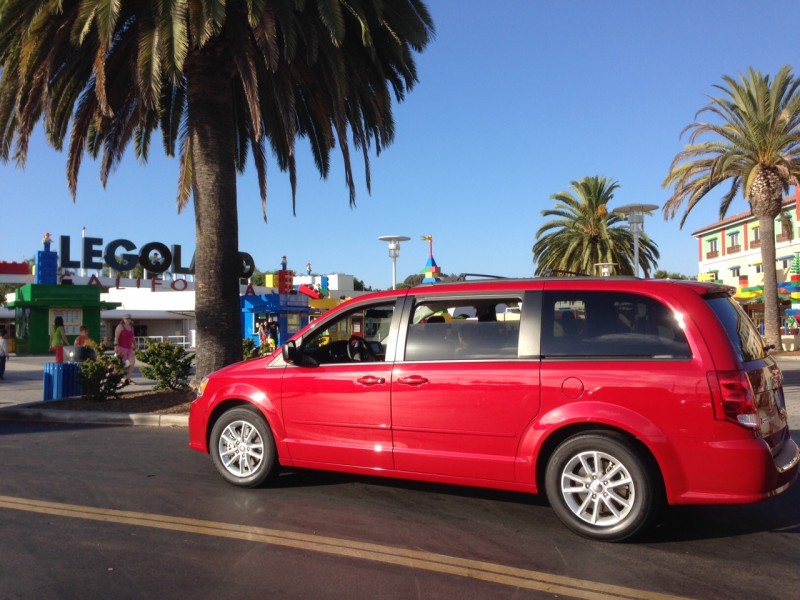 I've done this road trip in a station wagon, and although I felt really retro about it, I wouldn't recommend it to anyone with a family on board. I've written a post on why the Dodge Grand Caravan is the best car for a road trip, I'm currently driving a 2017 Dodge and there are quite a few reasons for that.
A Dodge Caravan has stow and go, so you can pack more.
If you're in a pinch you can stow all the seats and sleep stretched out
Thanks to Eco-mode, you can get 800 km per tank. One trip cost me $160 one way in gas
On board GPS means you won't get lost when you're in the middle of LA, and let me tell you, that's a good thing when you're white knuckling it
Average gas costs for a road trip to Disneyland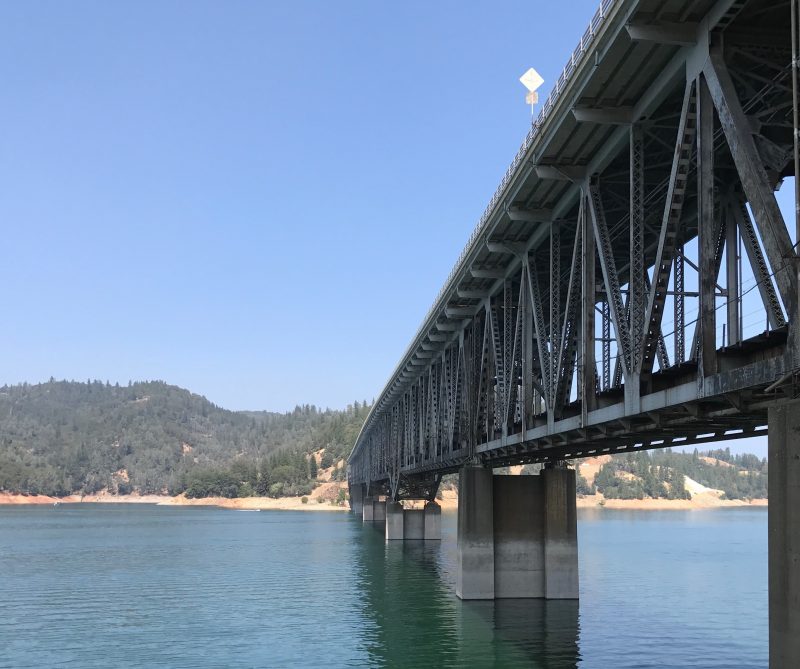 Gas has gone up this past year, and it's rare you can get a tank of gas for less than $1.30 per litre anymore. When you're in the United States, it generally costs between $3.00 to $3.50 per gallon. That can increase or decrease depending what time of year you go and where you stop.
Just based on my car, I've found that the average one way road trip to Disneyland will cost around $160. I get approximately 800 km to a tank when on the highway, and it took me 3 and a half tanks of gas at $50 per tank. I still had half a tank by the time I pulled into Anaheim.
You have to factor in any hotels you'll stay in along the way, but you'll find this trip is pretty cheap all things considered. There and back, with a hotel or two, it costs us about $800 total.
Gas prices and trip prices will also vary if you spend time veering off the I5 the way we do. One year we went to San Francisco, another we drove through the Redwoods. There's so much to explore off the I5, it's really hard to want to drive straight through.
To get a good idea of what gas could cost you, take a look at Gas Buddy.
How long will the roadtrip to Disneyland take?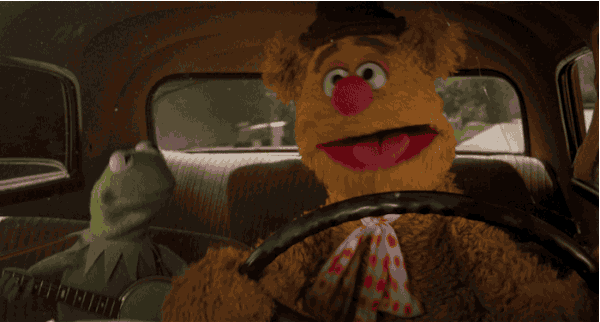 According to Google maps, it takes approximately 21 hours and 22 minutes to drive to Disneyland from the border near Vancouver. This is covering 2,046 km.
As I've mentioned in other blog posts, shooting for 21 hours means you don't stop, don't sleep, and just drive straight through. It also means your kids are quiet, entertained by movies, and never hungry.  I don't know about your kids, but even mine, at ages 16, 15, 12, and 9, could never possibly do this trip straight through without stopping for much more than the bathroom. I know people who have done this, and they usually have three or more drivers in the car.
The problem with this approach is, as I've mentioned, this road trip is about more than just driving to Disneyland as cheaply as possible. It's about family bonding, fun, and making a connection. For me, it's about exploring the history of the Westcoast too. There is literally so much to see and do on the way to Disneyland, you're going to want to do this trip over a few days to really enjoy it all.
We tend to break up the drive, and the longest I like to stay behind the wheel is about 8 hours. I've had to do that when driving from Sacramento to Anaheim, also known as the 7th layer of Hell, and I've had to do it from Bellingham to Eugene, Oregon because we were literally stuck in the worst traffic jam I've ever seen.
Note to everyone: for the love of all that is holy, avoid Seattle during rush hour.
Average gas costs for a road trip to Disneyland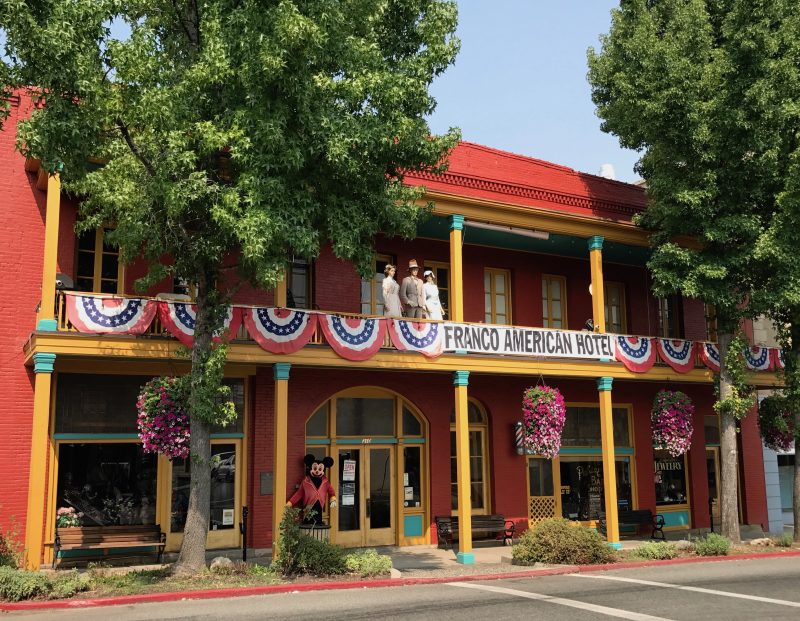 This is my favourite topic, so shut me up if your eyes start to glaze over.
The history of the Westcoast is so incredibly interesting, and along with the Gold Rush that trailed its way up and down from Canada to California and back again, there's also been some interesting and eclectic people that built/erected some seriously strange and awesome stuff.
Did you know that Olympia, Washington was the birth place of grunge music? If you're into Nirvana (hello, nice to meet you, let's be friends), this is where it all started to happen. There's a self guided tour you can take of Aberdeen, birth place of Kirk Cobain, so you can see all of the spots that inspired him.
Past Olympia and there's Portland: a dieter's worst nightmare. There is no tax and a food cart festival every single day.
Past Portland toward the coast and you'll find Canon Beach. The ocean here has to be seen to be believed.
Cross the border of Oregon into California and head toward the Redwoods. I will admit to being less than impressed over these as I have trees this size in my back yard (for real), but you have to see Paul Bunyan and the campy tourist attractions as you make your way back toward the I5. There are so many, you'll want to stop at every single one.
Where should you stay on your way to Disneyland?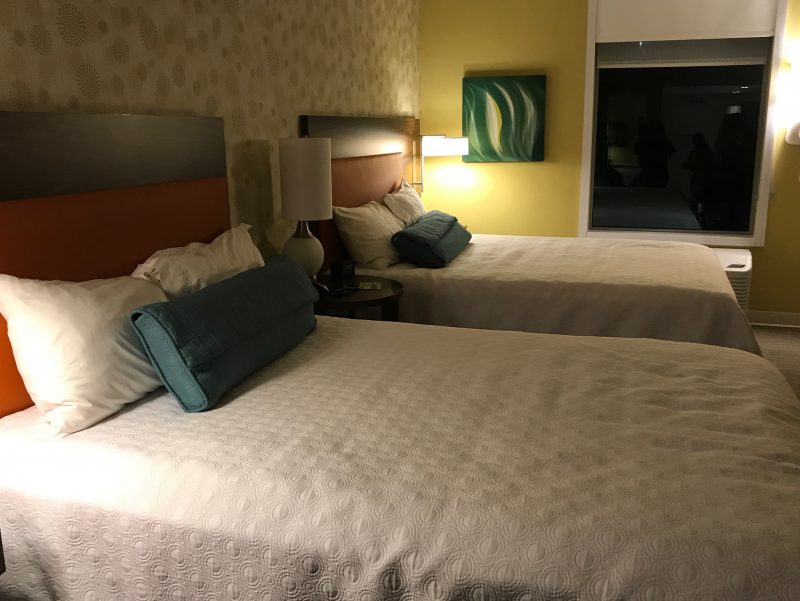 I realized something during our 2017 road trip to Disneyland. You can use an app to book hotels along the way, and when you do, you can get a digital key that lets you skip the front desk and walk straight into the hotel to your room. This is a glorious option for so many reasons beyond the fact that I hate standing in lines and I feel anti-social after being in a car with four kids all day.
Hilton does this via the Hilton app, and you can collect points too. I am cashing in points this year and it's taking $900 off my hotel bill. I kid you not.
If you have little kids who are asleep in the car, you'll love skipping the check in and going straight to your room. You also don't have to check out, and you can pick your room.
I highly recommend that you use one hotel chain, get the points, and book your rooms via the app. Hilton is an economical hotel for families, there's always nice pools, and there's a high end and low end of the scale almost the entire way down the Westcoast.
Hilton has not given me a dime for this endorsement, so I'm definitely on the level here. I'd like to take a moment to say I love you #Hilton. You make this trip easy.
Should you stop at rest stops on the I5?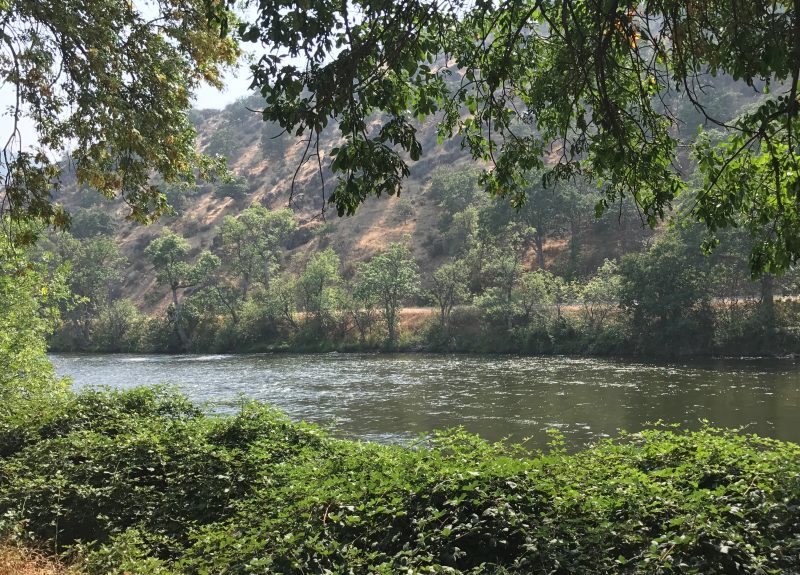 Rest stops could be your best friend, but you have to be comfortable curling up in the car and nodding off for a few hours. I'm OK to do that, and in general I've found the rest stops along the I5 to be safe and extremely populated at night.
I've always made these stops with the mind set of, 'Why would someone bother my car out of all of these cars?' That makes me feel better about stopping. I also bring a set of white sheets to blank out the windows for privacy, and if you stop you'll see a bunch of people doing the same thing.
Are hotels better? Of course. But if you're tired and you aren't anywhere near your hotel, this is a great option.
Where is In-N-Out?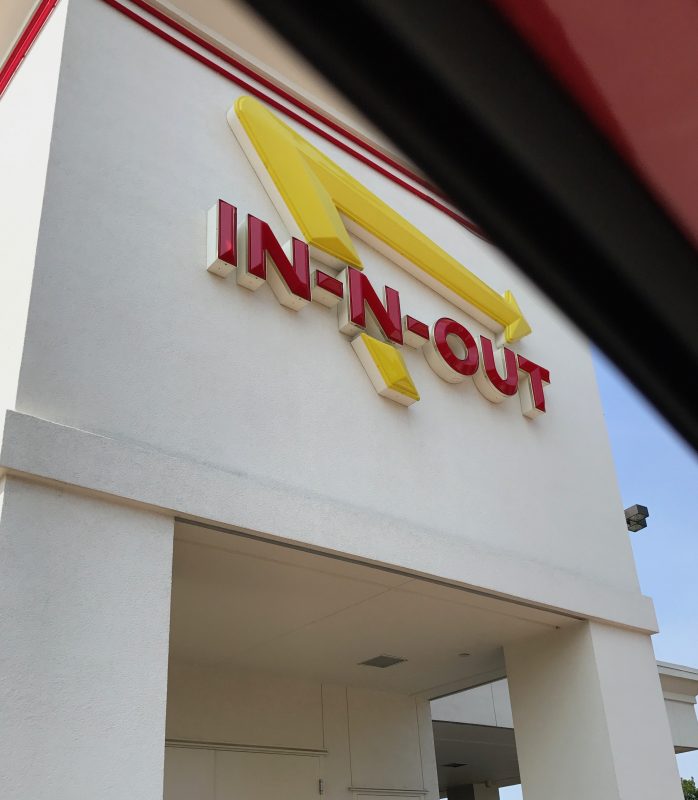 Once a year the In-N-Out food truck comes up to the Langley Cruise In. I've heard of someone standing line for four hours to get a burger and fries. It's good, but wow…
In-N-Out is slowly making its way up the coast, and although the closest restaurant used to be in Redding, it's now in Grants Pass.
The closest In-N-Out to Canada: In-N-Out Burger, 124 NE Morgan Ln, Grants Pass, OR 97526, USA
I've got a link to the In-N-Out secret menu on here too. Check it out.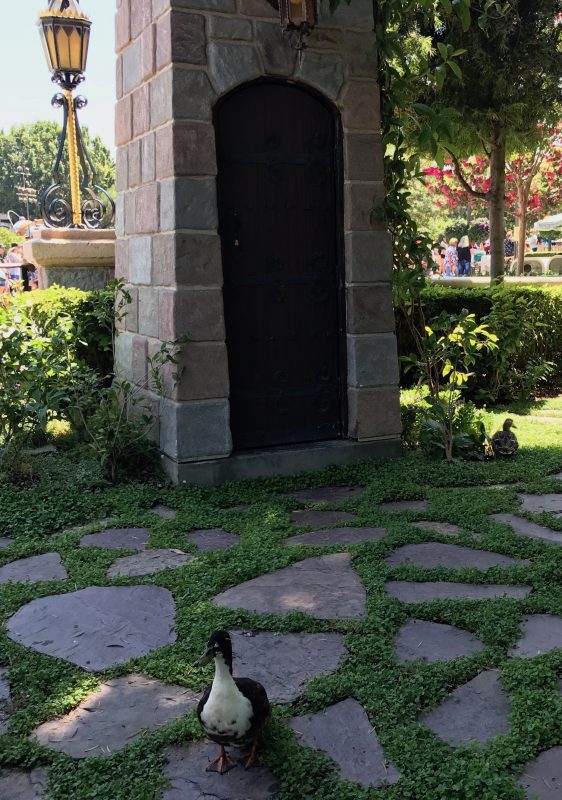 Now that you've got a step by step guide to the road trip to Disneyland, you're ready to hit the I5. Check out all of my road trip posts on here for more information, and throw a few good vibes out to the Universe that I ever finish this book. If you love this trip the way I love this trip, it will be worth the read.